Meet the Mobetron
Our flagship product—the IntraOp® Mobetron®—is used by the leading cancer physicians in the best hospitals, clinics and academic centers in the world.
The Mobetron is the first mobile, self-shielded electron-beam linear accelerator (LINAC) machine designed to deliver Intraoperative Radiation Therapy (IORT) to cancer patients during surgery. This innovation brings safe, reliable and portable radiation to the operating room without the need for costly shielding renovations or retrofits. And in turn, Mobetron underscores IntraOp's commitment to providing a solution designed to maximize cost effectiveness and reduce risk for cancer centers and their patients alike.
Benefits at a Glance
BROAD APPLICATION
Proven success with multiple indications of cancer
SHORTER TREATMENT
Two minutes during surgery replaces weeks of therapy
SELF-SHIELDED
Avoids adding costly shielding to the OR
PORTABLE
Offers flexible movement within and between OR suites
FEWER SIDE EFFECTS
Direct dose to tumor bed avoids healthy tissue and organs
MADE IN AMERICA
Mobetron is designed and built in Silicon Valley California
PRECISE
Electron-beam IORT delivers radiation to only involved tissue
LOWER RECURRENCE RATES
Proven success and increased survival rates
COST-EFFECTIVE
Let us show you the Mobetron value proposition
The End of the Shielded OR
Consider the scene before the Mobetron: a patient undergoing surgery is required transport to a shielded radiation bunker only to be returned after treatment for the remainder of the surgery. The method was inefficient for oncologists and it added costs for the hospital. Worse, it introduced greater risk for the patient.
Fast forward. By making electrons portable, the Mobetron leverages the advantages of electron IORT without sacrificing effectiveness. Radiation and surgical oncologists are now enabled to work together to pinpoint the exact area requiring radiation and immediately deliver high doses directly to the affected tissue during cancer surgery. Healthy tissue and surrounding organs remain unaffected. Portability means that the Mobetron IORT machine can easily be moved between existing operating rooms without investing in costly renovations to accommodate traditional unshielded radiation therapy devices. The treatment is brought to the patient. The procedure is completed in a fraction of the time with fewer side effects and lower rates of recurrence. Most importantly, the patient can go on living. Longer.
Image-Guided Electron Therapy
Mobetron has fundamentally changed the way we treat cancer patients at our facility. We have been able to eradicate localized cancers, prevent recurrent cancers, shorten treatment cycles and save patients. Mobetron is a critical tool in the fight against cancer."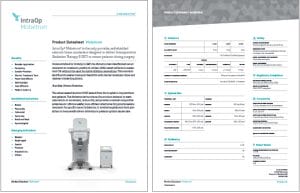 Mobetron Datasheet
An overview of history, application and technical specifications.
Mobetron was the ideal solution for University Hospitals Case Medical Center. Our radiation and surgical oncology teams were intent on using electron-beam iort. Because the device was self-shielded and completely portable, we were able to deploy it in an existing operating room and save millions of dollars in special construction costs."
Patient Success Stories
15,000 patients treated and counting. Hear their stories.
See Survivor Stories